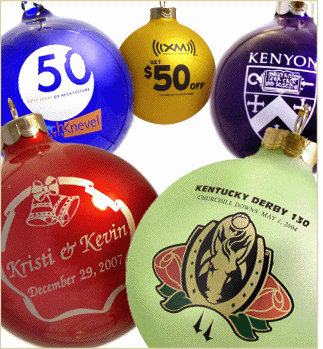 Church & Ministry Fundraising - the image on the right shows some examples of Church fund raising Ornaments recently shipped.
Churches and Ministries can run sophisticated fundraising campaign offering a Christmas Ornament with the line art of the Church Building, name of the Church, Year, Anniversary or Prayer imprint.
Some helpful tips for successful Church Ornament fundraising Campaign:
Design your ornament with Church name, building picture, slogan, prayer and or a year.
After we receive your artwork, we will prepare Proof of your custom ornament and fax it or email as an attachment for your approval. Click on thumbnail images here to see example of Church Ornament proof.

Two Sided Church Ornament

Check out our Fundraising Ideas Forum where you can share more ideas with other visitors on our site or ask any questions. Many people visit this site and someone might just have the right answers! Click here to go to our Fundraising Ideas & Questions Forum
Be sure to also visit our section on Fundraising Ideas & Tips where you can find more suggestions on how to run a great fundraiser.
You can start pre-selling the ornaments based on the artwork and proof we have created - so when your ornaments deliver, you may have already sold them all !
Be sure to involve the Sunday School in helping selling your Church fundraising ornaments. The Sunday School students can take home a flyer and sell quite a number of your fundraising ornaments to their family members and friends.
Reorders are easy and ship in one to two weeks, depending on time of the year - it is a good idea to check with us on the current re-order lead time. It is usually shorter that standard production time since we have all production artwork still in our system.
Aside from selling Ornaments with Church Artwork, we offer a wholesale program for Weddings, Christenings, Baptisms, Anniversaries and other Occasions! We supply a complete package, including a sample of a wedding ornament so all couples who get married in your Church have the opportunity to order Wedding ornaments inscribed with their names and a wedding date through your church. This is a completely new fundraising idea and your Church has an opportunity to raise additional funds for your Church by simply processing volume ornament orders.

No selling is required, simply display our wedding ornament sample and order forms, have the engaged couple place the order through your Church and we shall take care of the rest, your Church simply collects the difference between the wholesale and retail price of the ornaments.

Considering the minimum order is 100 units, your Church will easily make minimum of $100 or more for just taking the Ornament order and sending it to us.

Please call 305-872-9391
for your wholesale setup kit.