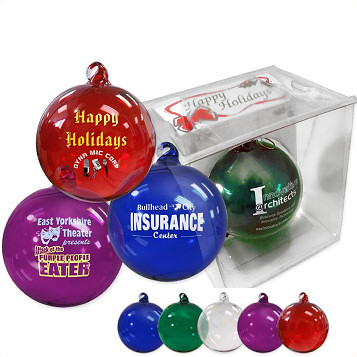 Our quick ship custom glass ornaments are available in limited colors and limited imprint options : This enables us to quickly print large quantity of high quality ornaments and delivery them incredibly fast for your event or fundraiser. These ornaments can made for you in one week on our normal production schedule or in three business days at our BLITZ EXPEDITE $50 RUSH charge.*

This custom Christmas ornament line is manufactured of thick glass so they are also Break Resistant! - this is a big plus since we hear from lot of fundrasing organizations that they prefer break resistant ornaments.

Ornament Colors: Blue, Red, Green, Purple, White Transparent.

Ink Imprint Colors:: Black, White, Red, Royal, Navy Blue, Baby Blue, Green, Orange, Yellow, Maroon, Purple, Gold, Silver.


Imprint Area: 1 3/4" diameter

Individually boxed in a clear custom see through package as shown in the picture above.
| | |
| --- | --- |
| Red Glass Ornament with black, white and gold ink imprint. (There is a 250 ornament minimum for 3 and 4 ink color imprints). | Blue glass custom ornaments for Christmas Party, printed with logo and holiday greetings. There is only 50 ornament minimum for single ink front print ornaments. |
| Green glass custom Christmas ornament with event logo. Great fundraising seller at the event. | Blue custom logo ornament - a unique party favor or Christmas gift for sponsors, members and customers. |
| Blue custom ornament with a logo and anniversary print. (There is 100 ornaments minimum for 2 color ink ornament prints.) | White semi transparent glass ornament is great for bold graphics. Also looks interesting with snowflake prints in white or silver if you wanted to go for classy subtle look. |

The minimum quantity of only 50 ornaments. For 50 to 99 ornaments we can only print front of the ornament in a single color ink. For quantity of 100 to 249 ornaments we can print front and back of the ornament with up to 2 ink colors. For quantities of 250 or more custom ornaments we can imprint up to 4 ink colors for both front and back.

Production time is only one week from the date you approve the artwork that is ready for print.

Shipping is usually via UPS to continental USA. The UPS ground cost is about $35-37 per 100 ornaments. If we ship to Canada, Hawaii, Alaska, PR and Military Zip Codes around the world, please refer to our online quote for approximate shipping rates. We can expedite shipping to faster air methods : please note since the ornaments are bukly, fast air shipping usually gets quite expensive, we have seen rates as much as $2 per ornament for overnight shipping within USA.

Pricing : the larger the quantity of the same design / imprint ordered the better your price. When we print more ornaments, our costs per order goes down and we pass those savings onto you.

Example prices:

50 to 99 glass ornaments with single color ink design printed on front $4.35 ea plus shipping

100 - 249 glass ornaments with single color ink design printed on front $3.90 ea plus shipping

250 - 499 glass ornaments with single color ink design printed on front $3.50 ea plus shipping

500 - 749 glass ornaments with single color ink design printed on front $3.40 ea plus shipping

750 - 999 glass ornaments with single color ink design printed on front $3.30 ea plus shipping

1000 plus glass ornaments with single color ink design printed on front $3.25 ea plus shipping

For more than one ink color printed on the front of the ornament, please add $0.25 per additional color

For printing on the reverse side of the ornament, please add $0.30 for first ink color and 0.25 for additional colors.

Imprint Area size : is 1.75 inch diameter circle.

Limitations :
Orders of less than 100 ornaments can be printed on front in one ink color only
Orders of less than 250 ornaments can be printed front and back but limit to 2 ink colors per side
$75 Blitz Expedite 3 day production only applies to orders printed on front in a single color ink up to 500 ornaments. If we can print more or in extra colors, the Blitz Expedite Charge will multiply accordingly.
Standard ink colors are limited to the choices listed above. we can match Pantone Ink Colors at $40 extra cost per order.
We cannot print true high quality gray scale or full color images, we can print just solid color spot colors. If you wanted photo image, please note it could be printed but only in so called newspaper quality 60 lpi resolution greyscale.