School, church fundraising ideas – custom imprinted fundraiser ornaments – church, school, high school, sports, christian, charity, non profit.


Shatterproof Acrylic Imprinted Christmas Ornaments

The perfect combination of price and quality makes these custom ornaments popular as a party favor, church fundraiser, school fundraising idea or company Christmas party favor.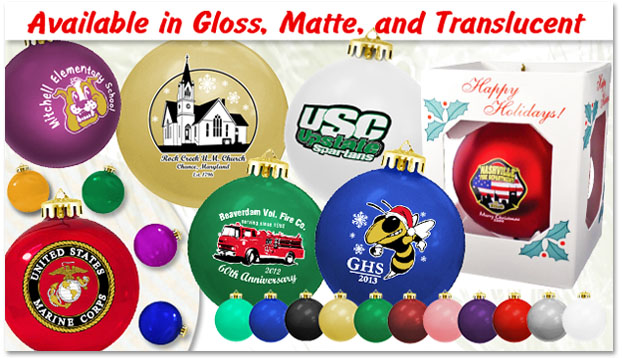 Please note on the Acrylic Ornaments we cannot guarantee a specific shade of each color as they vary slightly as new inventory is received.
CLICK   —>>>  HERE TO SEE A FULL COLOR CHART OF ORNAMENT COLORS <—-
Celebrate the Christmas holidays with a truly unique Custom Ornament.
Imprint Colors: Black, White, Red, Royal, Navy Blue, Baby Blue, Green, Orange, Yellow, Maroon, Purple, Gold, Silver.
Imprint Area: 2″ diameter.
Topper of the ornament is always gold.
Gold rope included.
Individually Boxed.
NO SET UP or GRAPHICS FEES!!
MINIMUM QUANTITY IS ONLY 50 ORNAMENTS! – For 50 to 99 ornaments your cost would be $3.50 per ornament which includes print in one color ink on the front of the ornament packed in individual gift box. Ideal For:
Holiday Gifts for Customers
Party Favors
Fundraising
Employee Gifts
Alumni/Class Reunion
Grand Opening Celebrations
Nursing Homes
Booster Clubs
Gift With Purchase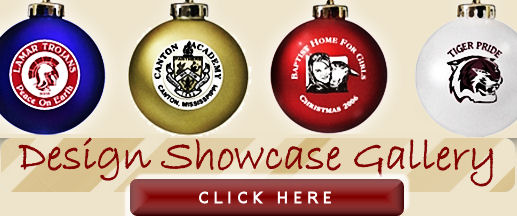 Price Per Ornament

Special HOT

$2.65 each starting with quantity of 100 ornaments or more. FREE SETUP FEES for one color front imprint ornaments! This price is all inclusive, just add shipping. We ship via FedEx Ground so the cost is typically $35 per 100 ornaments to Continental USA.

MINIMUM QUANTITY IS ONLY 50 ORNAMENTS! – For 50 to 99 ornaments your cost would be $3.50 per ornament which includes print in one color ink on the front of the ornament packed in individual gift box.
*See our SPECIAL HOT SALE PRICING: Use our online quote to calculate best prices instantly!


Additional Charges and Information (please read before ordering)
(( NOTE: maximum 1 color imprint on just front side of the ornament for orders of 50 to 99 Acrylic ornaments, maximum 2 color imprint for Acrylic Ornaments for quantities of 100 to 249 ornaments. We can print up to 4 colors on Acrylic Ornaments but the minimum order for 3 and 4 color ink is 250 Units. ))

Pantone Ink Color Match: $40.00
Standard Packaging: Individually gift boxed.
2-3 Business Days to produce a Proof to Email for approval.
Production Time is 5 to 7 business days from the date of you approving the proof.
Ground Shipping is typically $25 per 100 Ornaments. 3 Day Air Shipping – about $150 per 100 ornaments. 2 Day Air Shipping – is about $180 per 100 custom ornaments. Next day air available based on quote ((on average about $250.00 per 100 ornaments)).
We do ship to APO Boxes and Overseas! Just email for quote.
Call 305 745 2681 or TOLL FREE 800 761 XMAS or (305) 896 5565 to Order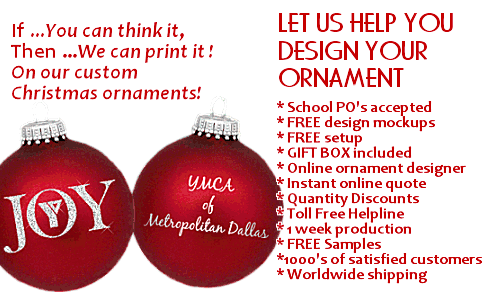 Acrylic Ornament Custom Printed Samples

Click on the thumbnail to see larger images – we suggest that you browse the sample showcase as there is a lot of detailed information that will answer most of your questions.

merchandise brand christmas ornament

baptist home ornament

non-profit organization Christmas ornament

theater play custom Christmas ornament

logo custom ornament

military Christmas ornament three color print

military combat aviation logo ornament

armed forces custom printed Christmas ornaments

school anniversary ornament idea

military insignia logo Christmas ornament

christmas party custom printed white ink ornament

church logo christmas ornament

Christmas ornament fundraiser for ministry

bank logo holiday promotion ornament

band artist promotional Christmas ornament

brand logo Christmas ornament

wedding party favor snowflake ornament

logo product custom ornament

school team Christmas ornament for fundraising

holiday party custom Christmas printed ornament

wedding favor Christmas ornaments

insert photo ornament front

school fundraiser custom ornament

fundraiser idea christmas ornament

photo pet custom printed ornament

insert picture ornament imprinted with logo

school fundraiser photo ornament

realtor holiday promo idea

custom Christmas ornament – school – academy – university

hospital logo custom printed ornament

employee party Christmas logo ornament

middle school Christmas ornament

military company custom printed ornament

school team ornaments fundraising idea

church Christmas ornaments

Christmas theatre ornament

university custom printed ornament

Christmas printed ornament for parish

Filed under
Acrylic Ornaments
. You can follow any responses to this entry through the
RSS 2.0
feed.
Leave a Reply