We have started crafting personalized Christmas items in 1989 in New Jersey. Our retail location opened every Christmas at one of the finest Southern California Shopping Malls. We have been in crafting Christmas items since 1989 and brought Christmas Spirit to Del Amo Fashion Center in Torrance, Inland Center in San Bernardino, Orange County Market Place, Mall of Orange and Lakewood Mall. Thanks to your patronage through internet, we no longer need to open retail locations in the malls but sell exclusively through our internet websites.

Some of our websites are:
Our first website opened in 1996 as Personalized Ornaments / Stockings Store online. Then anotherChristmas Ornaments / Stockings store followed
We also opened store at Yahoo with our personalized stockings and photo ornamentsand Christmas Wedding Favors store and Custom Corporate Christmas Ornaments store and finally Fundraising Ornaments opened in 2002
Our newest addition to Custom Christmas Ornament lines is our Photo Ornaments website at www.pictureornaments.com featuring full color photo images on our glass Christmas balls.

The principals of our Company also own a web hosting company, so all of our websites are looked after by in-house professionals... so be sure to visit Domain Registration and Webhosting for $9.75 domain registration and web hosting or Antique Radios and Phonographs to see or buy rare antique radios and phonographs or http://www.preview-online.com for some great movie previews.

We are a family owned business, located in Summerland Key, FLorida. Summerland Key is about 1/2 hour north of Key West Airport and 2.5 hours south of Miami Airport.
We ship our products world-wide.
Our success is owed to YOU - the Customer! Thanks for the 20 years of success and we look forward to serving your promotional needs for many years to come.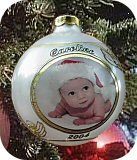 Featuring: Christmas Photo Glass Ball Ornament
These are so unique and adorable keepsakes and gifts. We can put any picture/photo and personalization, in color or black & white on our giant Glass Christmas Bulb for you. You will not find this ornament on any other website or in any stores. Click Here for more info.