CUSTOM ORNAMENTS – GREAT CHRISTMAS FUNDRAISER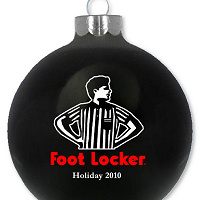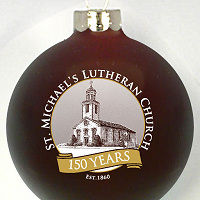 Over the past 20 years…
We have had the pleasure to work with customers producing custom ornaments for:
Fundraisers
Special Events
Promotions
Occasions
Recognition
Retail Sales

Custom Christmas Ornaments
Individual Ornament Gift Boxes – Free

We can design your ornament for you

–

Free
just email us your logo/image with specification of ornament type and color or imprint::: email to design@stockingfactory.com ::: in the Subject of your email put NEED MOCK UP ::: and we will create an attractive ornament design art for you!
Proof of Your Design By Fax or Email

–

Free

Need a Sample?

–

Free
just call our customer service 800.761.9627 or complete our Online Quote / Sample request form – just CLICK the Online Price Quote button below.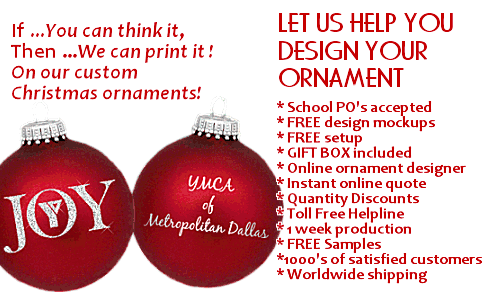 Available in several options:
* QUICK SHIP GLASS ORNAMENTS
Glass 3-1/4″ Custom Glass Ornaments shipped in just one week. Minimum Order is just 50 Ornaments!

Special HOT SALE $3.50 based on 100 ornaments w/one color imprint.

* CUSTOM GLASS ORNAMENTS PROGRAM
Standard size 2-5/8″ custom glass ornaments and Large 3-1/4″ glass custom Christmas ornaments

Special SALE on our completely custom printed Christmas Ornaments with your image graphics and text.

* CUSTOM GLASS ORNAMENTS WITH SURROUND PRINT:
Standard size 2-5/8″ glass custom ornaments

Special SALE

and our large 3-1/4″ glass custom ornaments

are also on Special SALE

silk screened 360 degrees all around (surround) print in ink or glitter. Choose from these Ornament Colors -> CLICK HERE.
* ACRYLIC BALL ORNAMENTS:
Also called shatterproof ornaments , they are made out of acrylic, not glass in 3-1/4″ size, imprinted with your custom image and text. We ship these in 7 days from your order.

MINIMUM QUANTITY IS ONLY 50 ORNAMENTS! – For 50 to 99 ornaments your cost would be $3.25 per ornament which includes print in one color ink on the front of the ornament packed in individual gift box. Ornament quantity of 50 to 99 ornaments is available only in single color ink printed on front of the ornament only.
Shatterproof ornament production only takes 5-10 business days and Glass production only takes 2 weeks to ship AND we can always expedite/shorten shipping times to accommodate your needs! We have 48 Hour production time on our Acrylic Ornaments on BLITZ EXPEDITE! Blitz expedite is available on Acrylic ornaments only for additional charge of $75 and guarantees shipment on a 3rd Business day from the date you placed your order from the time your art work has been proofed and approved.
Be sure to checkout our Fundraising tips section for a step-by-step guide how to sell your ornaments even before you receive them!
Why Choose Ornaments for your Holiday Fundraising?
Ornaments are well received, treasured and not discarded or consumed. They represent a permanent keepsake for those who supported your Organization.
Ornaments are collectible – that stimulates repeat purchases year after year so once sold, you have acquired repeat sponsors for your Organization.
Print a current year and change designs – to enhance the collectible aspect of this fund raiser.
Make a tradition of Ornament fund raising each Holiday season.
You can set your price at double, triple or more of your cost!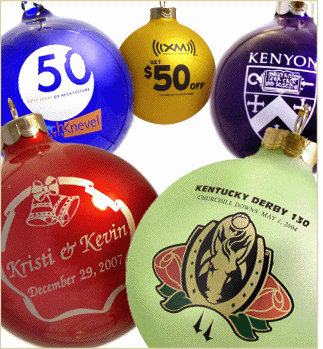 Our Christmas ornaments are custom color printed with your logo, year, message or any artwork you desire and delivered to you individually boxed – a perfect fundraiser!
"My special imprinted school ornament brings back some great memories years later decorating my Christmas tree."
During Holidays many people like to purchase special things for themselves and their friends and loved ones. Christmas ornament imprinted with logo, message, year or picture symbolizing their membership in your organization and past year history makes a wonderful fundraising opportunity. It's uniqueness is in providing a special one-of-a-kind momentum for the recipient who purchased something that also helped to contribute to supporting other endeavors making a contribution to a new Church construction, team special trip, new equipment for the school kids, etc…